Desktop or Online? What's right for me?
Desktop or Online? What's right for me?
INTRO
QuickBooks Desktop (Pro, Premier, and Enterprise) and QuickBooks Online (Simple Start, Essentials, Plus, and Advanced) are both made by Intuit, but they look, feel, and work quite differently. 
Right now, about ½ of the country's small businesses use QuickBooks Desktop. However, about 80% of businesses who buy QuickBooks today, choose QuickBooks Online.
SO, HOW DO I DECIDE WHAT'S RIGHT FOR ME?
Every business is unique and in most cases, we recommend getting advice from an expert before you decide. They can ask key questions and guide you to the right solution. This guide is an introduction to understanding the differences…think of it as your first step toward choosing the right version of QuickBooks for you. 
FIRST THINGS FIRST…WHAT ARE MY CHOICES? 

SO MANY CHOICES! WHERE DO I START?
Let's start with a few questions…
Let our instructors guide you
Attend either the QuickBooks Online or Desktop class – receive a FREE seat to attend the class for the other version.
VIP members get access to training for BOTH platforms. That means OnDemand training (anytime, anywhere), live weekly classes, and access to an instructor to ask questions about any version, every day! 
Need help? Our instructors can help you choose. 
Ask a training advisor for more information about this special offer!
Do you need to track inventory?
In general, QuickBooks Desktop is a better choice for you. However, if you don't have complex needs QuickBooks Online may suit you very well! If you track inventory, your choices are QuickBooks Premier or Enterprise vs.QuickBooks Plus or Advanced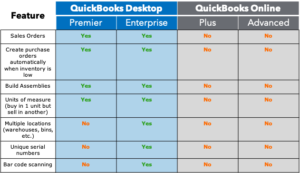 How many need to access QuickBooks at the same time?
Insert table with max users per version
Do you need strict control over what people can and can't see or do?
#1 Enterprise
#2 Pro or Premier
#3 Advanced
#4 Plus
Prices vary, what is your budget?
Insert pricing table
Need to access your accounting from anywhere and any device?
In this case we recommend QB Online. HOWEVER, some students want this freedom BUT they absolutely need certain features that are only available in QB Desktop. For example, one student has complex Inventory needs (they need to track inventory in multiple warehouses and need to send "pick and pack" lists to employees' phones in the warehouse). In this case, their instructor recommended QB Enterprise in a hosted environment. 
Give it a try: Experience QuickBooks in a hosted solution (click Standard Edition. If it doesn't work the first time, try it again). Note: This is the Enterprise version, but the speed and responsiveness will be the same for QuickBooks Pro/Premier.
We cover all desktop edition in our live class, and as a VIP, Instructors are ready to answer your questions whether you use QuickBooks Pro, Premier, or Enterprise.